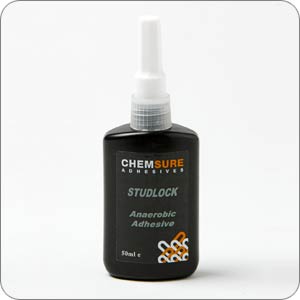 Request Technical Data & MSDS
Studlock
Studlock is a medium viscosity high strength studlocker for temperatures up to 150°C. It is resistant to corrosive chemicals, high shock and load and has excellent gap filling ability. It gives good resistance to vibration loosening, achieving up to 42Nm on pre-torqued steel fasteners.
Features:
Permanent
Surface insensitive
Resistant to chemicals
Colour coded green
High strength
Medium viscosity
Colour of product:
Sizes:
10ml bottle
50ml bottle
Bulk
Note: All bottles and bottle tubes utilise transparent applicator nozzles with white screw on cap.