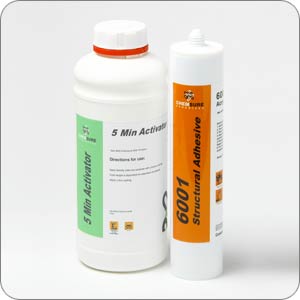 Request Technical Data & MSDS
6001 Structural Adhesive
Chemsure 6001 is a 2 part 'no-mix' adhesive which cures rapidly at room temperature. Its exceptional resistance to peel fatigue and impact loads on a wide variety of surfaces combined with excellent environmental durability and chemical resistance, make it ideal for applications demanding structural integrity. This outstanding performance can allow the adhesive to be used in place of rivets and/or welding thereby providing reduced assembly times, lighter structures and an improved aesthetic appearance. Total clarity on transparent materials, invisible bonds on solid materials.
Features
No mixing required
Ideal for large composite and metal structures
Excellent chemical durability
General applications for Chemsure Adhesives 6001
Composite / steel door manufacture.
Metal fabrications requiring shock resistance/flexibility.
Bonding materials with different coefficients of expansion.
Where a short jig time is required.

Colour:
Sizes: